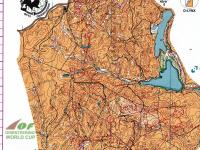 Yesterday the last WC race in New Zealand was held in Hawkes Bay. The format was a Middle distance, with a Prologue in the morning and a Chasing start in the afternoon. With open hilly terrain, and more than 30 degrees, it was a very though race.
I did a OK performance in the Prologue, and finished as 13th runner, 1.31 behind Peter Öberg. I lost 10 - 15 second a few places, but avoided major mistakes, and was able to keep a OK speed.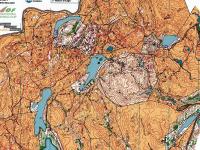 In the beginning of the Chasing start I was able to catch up some of the runners starting in front of me, but the runners starting close after me also got contact, and we became a bigger group. At the 8th control I punched first in the group, but started running directly to the 10 control, and ended up being last in the group. At the map change I had managed to again be among the first runners in the group.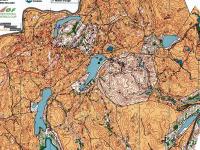 But at this moment I started to be really tired, and when I passes the 26th control, on my way to the 21st control, I started to orienteer to the 25th control. When I finished the race I collapsed, and was laying on the ground for a long time. I could not remember much from the last loop, but the spectators said I was falling several times when I passed close to the arena on the way to the 21st control. I had surprisingly managed to punch all controls correct, but lost some minutes on the last loop and ended as 24th runner. It was not before I looked at map and talked to some of the other runners I started to remember parts of the last loop. Jerker Lysell won the race some seconds in front of Olav Lundanes.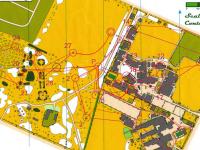 Today I have taken it very easy, and not doing any training at all. I am still not feeling totally recovered, but will hopefully feel fine tomorrow. Together with some of the other Norwegian runners I I will stay in Hawkes Bay some more days, and we are going to compete in
Sprint the Bay
the 3 coming days, with in total 6 sprint races. I think it is a really cool competition format, and enjoyed participating in Sprint the Bay during my stay in New Zealand two years ago. All maps from Sprint the Bay 2011 are in my
DOMA
.